Dear Duchess,
Need your help. I would love to go to Greece in September/ October maybe 7-10 days. Not really sure of budget as I don't even know where the price point begins. Don't want to insult you. Thinking maybe 1,500-2000? Do you have any tips/tools to keep within that budget.
P.S. I'm flying out of Miami.
Thank you,
Amanda
♦♦♦♦♦♦♦♦♦♦♦♦♦♦♦♦♦♦♦♦♦♦♦♦♦♦♦♦♦♦♦♦♦♦♦♦♦♦♦♦♦♦♦♦♦♦♦♦♦♦♦♦♦♦♦♦♦♦♦♦♦♦♦♦♦♦♦♦♦♦♦♦♦♦♦♦♦♦♦♦♦♦♦♦♦♦
Dear Amanda,
There are plenty of tools at your fingertips to keep you within that $1500-2000 budget. I'll show you how to find a cheap flight and that way more of your budget can be used to find inexpensive lodging.
First off, I'm not sure what part of Greece you want to fly into, so for this example I'll use Athens. I went to my first resource the ITA Matrix and entered MIA – ATH. Instead of using specific dates, I go to "See calendar of lowest fares" and select the entire month of September for "7-10" days. (See below). I also make sure that nearby airports are checked off, so that I can have a variety of choices.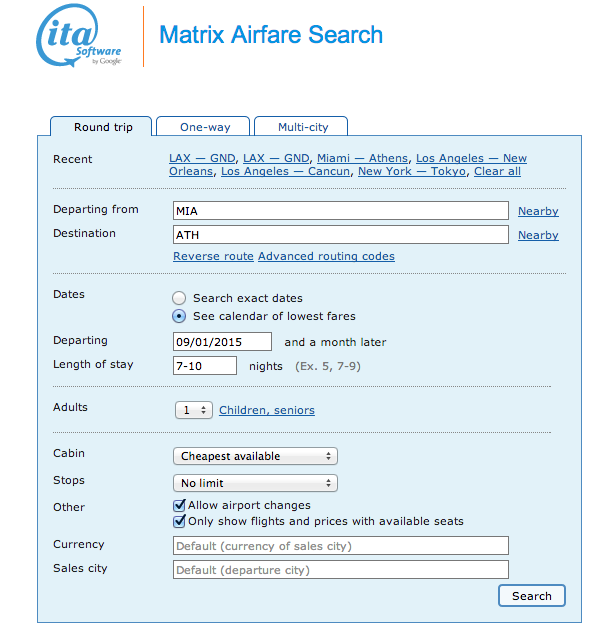 This will return a list of results for the month of September. After clicking on the week with the lowest price, you will be able to see itineraries to choose from: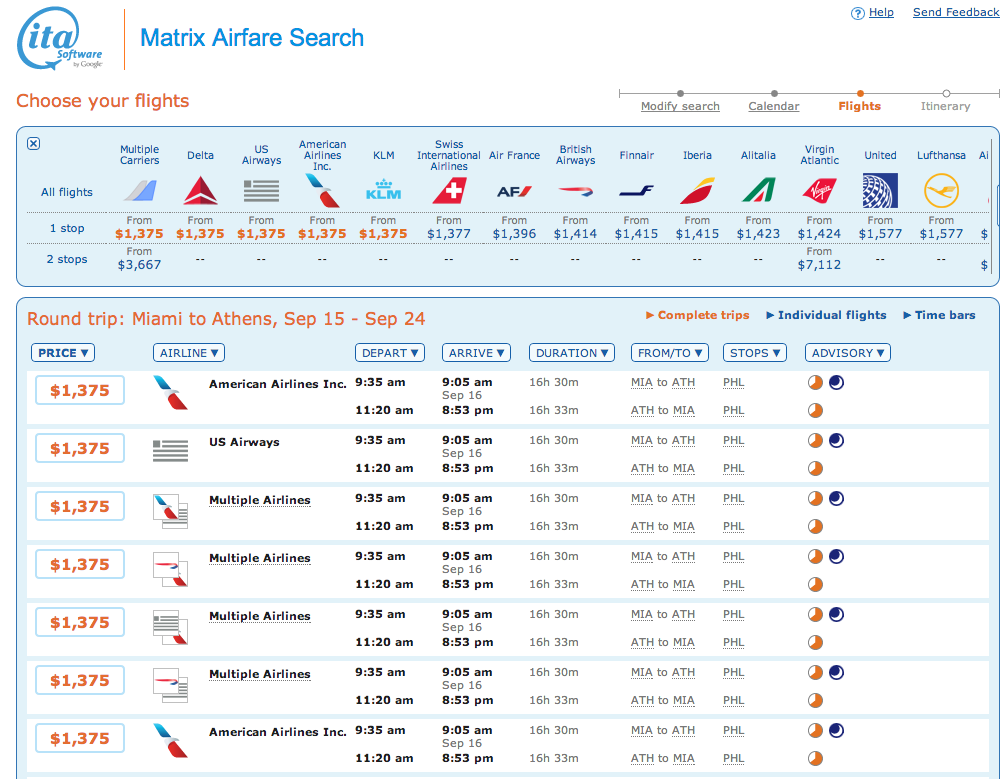 $1375 is NOT A DEAL to me. So, that prompted me to check out my 2nd resource, Skyscanner. I put in the same information to see what week in September and October would be cheapest: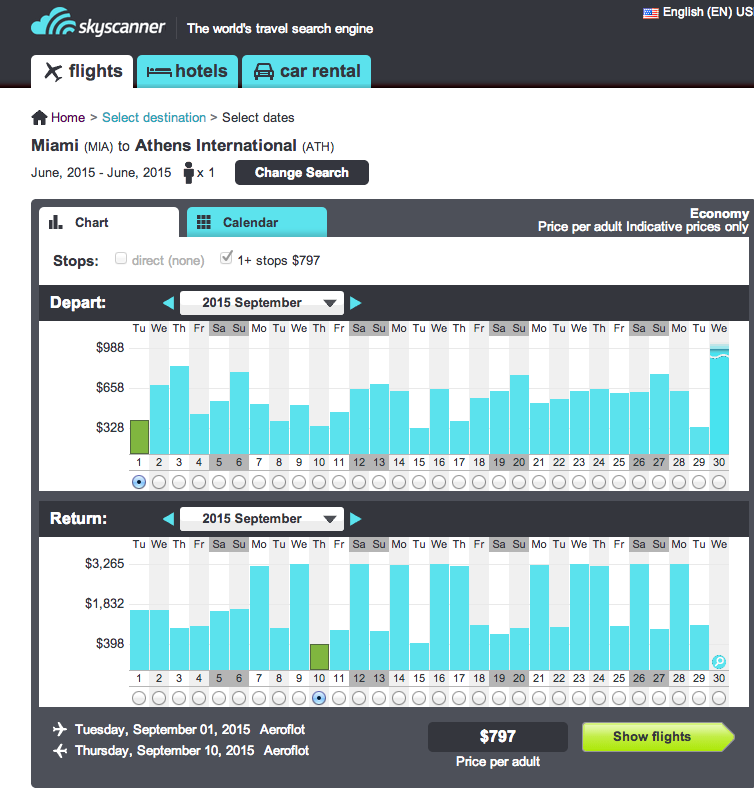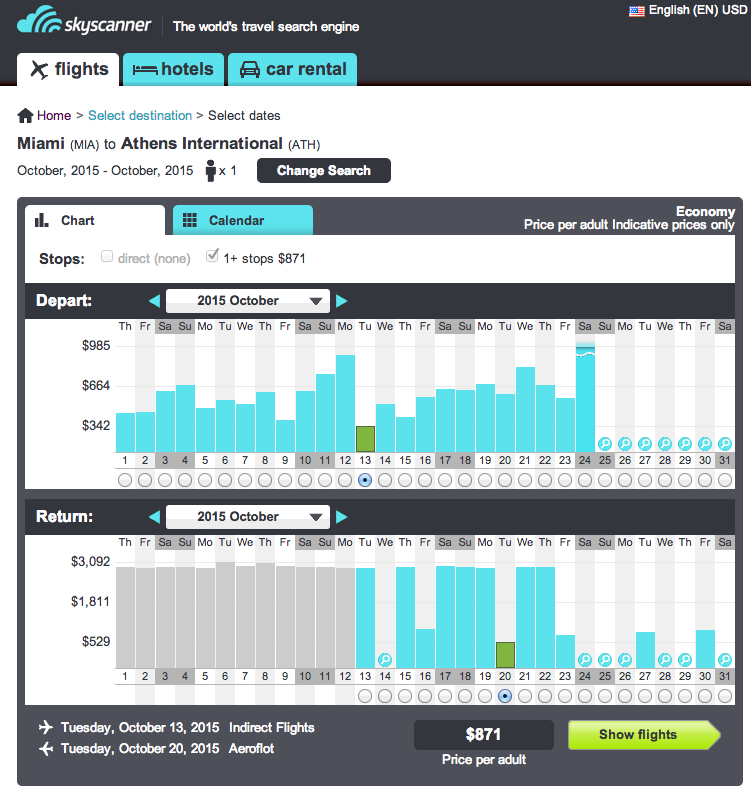 It looks like the September 1-10th is the cheapest time to go at $797. Much cheaper than the $1375 we saw on the ITA Matrix.
Now please be aware that you can not book through ITA Matrix or Skyscanner. Skyscanner gives you a list of places that you can purchase the ticket, as shown below: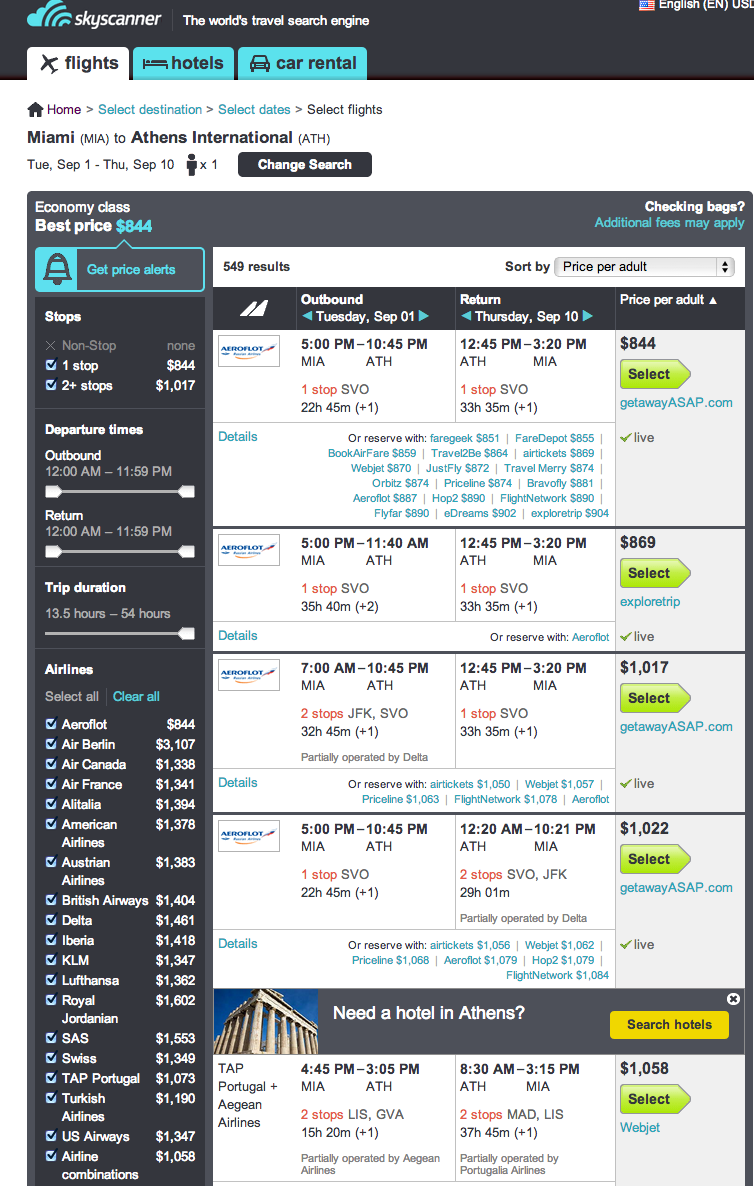 Go to that website or go directly to the airline and book away! After an $800 flight, you now have $700 for lodging and food. That is completely doable. Make sure you keep an eye out for any deals for Greece that may come from The Flight Deal and be ready to book!
Keep Traveling,
Deal Duchess